Reactive Applications with Akka.NET
تاریخ:
۱۱:۷:۴۸ ۱۳۹۸/۱/۱۶ جمعه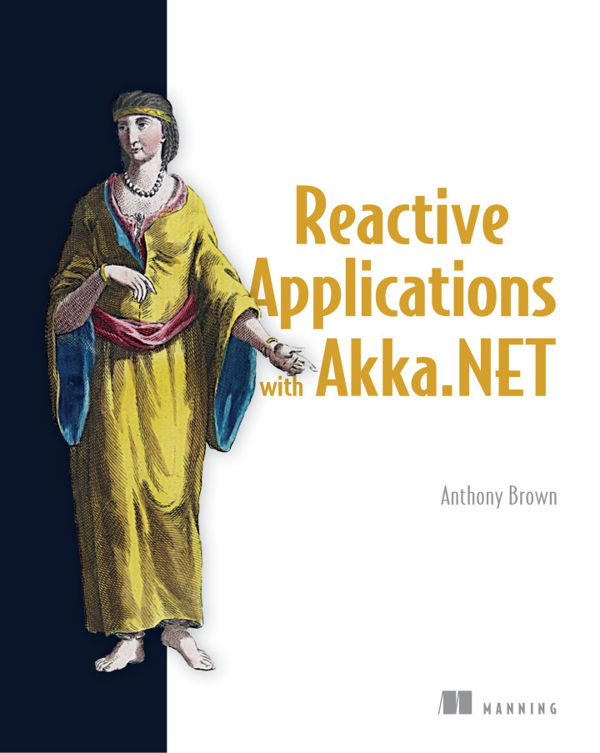 کتاب برنامه‌های Reactive با Akka.NET، نوشتن برنامه هایی با کارایی و همزمانی بالا را بدون اینکه صراحتا درگیر مدیریت تردها و قفل گذاری شوید به شما نشان می‌دهد. شما قدرت Akka.NET و مدل همزمانی اکتور‌ها را با بررسی موارد واقعی در هر فصل می‌آموزید. همان طور که پیش روید، شما شروع به درک قدرت ارتباطات ناهمزمان در یک محیط توزیع شده می‌کنید و کارهای عملی مثل استقرار، دیباگ کردن و ایجاد تضمین‌های عملکرد را خواهید آموخت.
about the technology
Enterprise-scale software needs to be unfailingly reliable, consistently performant under unpredictable loads, and easy to scale and maintain. Reactive applications guarantee these qualities through clear isolation of system components and message-based communication. Akka.NET ports the battle-tested Akka Actors toolkit from the JVM, radically simplifying the concurrency and asynchronous message handling at the heart of a reactive system.

Table of contents:
PART 1 THE ROAD TO REACTIVE
READ IN LIVEBOOK
1 WHY REACTIVE?
READ IN LIVEBOOK
2 REACTIVE APPLICATION DESIGN
PART 2 DIGGING IN
READ IN LIVEBOOK
3 YOUR FIRST AKKA.NET APPLICATION
READ IN LIVEBOOK
4 STATE, BEHAVIOR, AND ACTORS
READ IN LIVEBOOK
5 CONFIGURATION, DEPENDENCY INJECTION, AND LOGGING'
READ IN LIVEBOOK
6 FAILURE HANDLING
READ IN LIVEBOOK
7 SCALING IN REACTIVE SYSTEMS
READ IN LIVEBOOK
8 COMPOSING ACTOR SYSTEMS
PART 3 REAL-LIFE USAGE
READ IN LIVEBOOK
9 TESTING AKKA.NET ACTORS
READ IN LIVEBOOK
10 INTEGRATING AKKA.NET
READ IN LIVEBOOK
11 STORING ACTOR STATE WITH AKKA.PERSISTENCE
READ IN LIVEBOOK
12 BUILDING CLUSTERED APPLICATIONS WITH AKKA.CLUSTER
READ IN LIVEBOOK
13 AKKA.NET AND REACTIVE PROGRAMMING IN PRODUCTION
می پسندم
به درد نمی خوره