Encyclopedia of Database Systems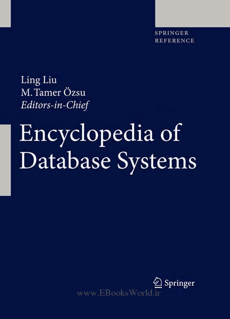 Liu, Ling, Özsu, M. Tamer
داده‌ها تبدیل به یک دارایی با ارزش برای دولت ها، صنایع و اشخاص شده است و مدیریت این داده‌ها هنوز به عنوان یک چالش تکنیکی بحرانی باقی مانده است. چالش‌های مدیریت ترابایت‌ها واگزابایت‌ها داده و گسترش مدیریت داده‌ها برای شامل شدن دیگر قیود داده‌ها در هنگام نگهداری اصول مدیریت پایگاه داده ( استقلال داده ها، تمامیت داده ها، ثبات داده‌ها و...) امروزه از جمله مسائل مهمی برای هر سازمانی هستند.
چاپ شدن در پنج جلد و در بیش از 4000 صفحه، دایره المعارف سیستم‌های پایگاه داده دسترسی سریعی به مفاهیم اطلاعات مرتبط در همه‌ی زمینه‌ها از جمله پایگاه داده‌های بسیار بزرگ، مدیریت داده‌ها و سیستم‌های پایگاه داده فراهم کرده است. این مرجع جامع دارای بیش از 1300 مثال است که به ترتیب حروف الفبا مرتب شده اند. هر موضوع دارای یک مقدمه، شناخت مفهوم و روش‌ها و الگوریتم‌های پیاده سازی است و به مرجع و مربی و تاریخ آن ارجاعه داده شده است.
This multi-volumeEncyclopedia of Database Systemsprovides easy access to important concepts on all aspects of database systems, including areas of current interest and research results of historical significance. It is acomprehensive collection of over 1,250 in-depth entries (3,067 including synonyms) that present coverage of the important concepts, issues, emerging technology and future trends in the field of database technologies, systems,and applications. The content of theEncyclopediawas determined through wide consultations. We were assisted by an Advisory Board in coming up with the overall structure and content. Each of these areas were put under the control of Area Editors (70 in total) who further developed the content for each area, soliciting experts in the field
as contributors to write the entries, and performed the necessary technical editing. Some of them even wrote entries themselves. Nearly 1,000 authors were involved in writing entries.
The intended audience for theEncyclopediais technically broad and diverse. It includes anyone concerned with database system technology and its applications. Specifically, theEncyclopediacan serve as a valuable and authoritative reference for students, researchers and practitioners who need a quick and authoritative reference to the subject of databases, data management, and database systems. We anticipate that many people will benefit from this reference work, including database specialists, software developers, scientists and engineers who need to deal with (structured, semi-structured or unstructured) large datasets. In addition, database and data mining researchers and scholars in the many areas that apply database technologies, such as artificial intelligence, software
engineering, robotics and computer vision, machine learning, finance and marketing are expected to benefit from theEncyclopedia. We would like to thank the members of the Advisory Board, the Editorial Board, and the individual contributors for their help in creating thisEncyclopedia. The success of the Encyclopediacould not have been achieved without the expertise and the effort of the many contributors. Our sincere thanks also go to Springer's editors and staff, including Jennifer Carlson, Susan Lagerstrom-Fife, Oona Schmid, and Susan Bednarczyk for their support throughout the project.
می پسندم
به درد نمی خوره